Pigeon ( कबूतर): Pigeon occur worldwide  and that too in huge numbers. Rock Pigeon also called Common Pigeon is the most common species in India and they have also evolved themselves in sharing space in city life. Smaller forms are usually called doves, larger forms pigeons.
The other common variety is Yellow footed Green Pigeon which is resident and found across India across forests, city parks, shrubs etc. Hill and Snow Pigeon can be seen in upper Himalayan range.
They are possibly the oldest ones domesticated by humans for various purposes, acting as messenger was most familiar one.
Due to domestication of Pigeons they  show a variety of plumages and size, such species of pigeons are called "Feral Pigeons" (See gallery for image)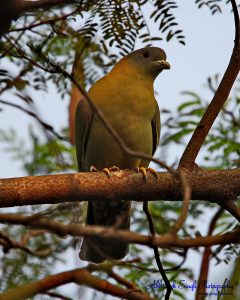 Dove ( फाक्ता ): A smaller variety from Pigeon family called Dove. The names pigeon and dove are often used interchangeably. Doves have a little longer tail . 
Oriental Turtle Dove has got some migratory behavior and a common sight in Himalayas where they are resident. Other species like Eurasian Collared , Red Collared, Spotted and laughing Doves are very common sight all across India.
They along with Pigeons holds the symbol of "PEACE" as some may suggest "Dove of Peace".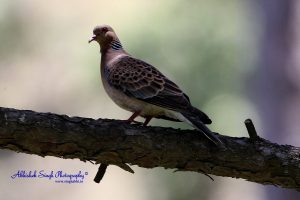 Parakeet ( तोता ): Parakeet, also commonly called as parrot, but as nomenclature goes, they differ in size.  Parrots are smaller in size and have small tails.
They mainly feed on seeds and found world wide and are abundant India especially Rose ringed and Alexandrine  and also have very slight difference in appearance.
They have a very unique voice and are also known for learning and pronouncing words.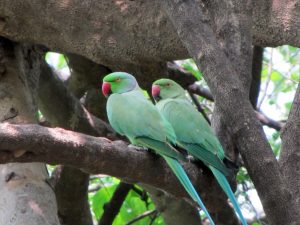 List of Pigeons, Dove, Pigeon and Parrots of India
| Bird Name | Family Name | Record Location and Status | Preview |
| --- | --- | --- | --- |
| Andaman Cuckoo Dove | Dove | | |
| Barred Cuckoo Dove | Dove | | |
| Emerald Dove | Dove | | |
| Eurasian Collared Dove | Dove | Jodhpur | |
| European Turtle Dove | Dove | Not Resident, a Rare or accidental Visitor | |
| Laughing Dove | Dove | Entire North India | |
| Oriental Turtle Dove | Dove | Lower Himalayan Range | |
| Red Collared Dove | Dove | Lower Himalayan Range | |
| Spotted Dove | Dove | | |
| Alexnanderine Parakeet | Parakeet | Ranthombhore, Bharatpur | |
| Blosoom headed Parakeet | Parakeet | | |
| Derbyan Parakeet | Parakeet | | |
| Grey headed Parakeet | Parakeet | 0 | |
| Intermediate Parakeet | Parakeet | | |
| Layard's Parakeet | Parakeet | | |
| Long tailed Parakeet | Parakeet | | |
| Malabar Parakeet | Parakeet | | |
| Nicobar Parakeet | Parakeet | | |
| Plum headed Parakeet | Parakeet | Ranthombhore, Corbett | |
| Red breasted Parakeet | Parakeet | Lansdowne | |
| Rose ringed Parakeet | Parakeet | Entire North India | |
| Slaty headed Parakeet | Parakeet | Kausani, Uttaranchal, Tehri | |
| Srilanka Hanging Parrot | Parrot | | |
| Vernal hanging Parrot | Parrot | Waynad | |
| Andaman Wood Pigeon | Pigeon | | |
| Ashy Wood Pigeon | Pigeon | | |
| Common Wood Pigeon | Pigeon | | |
| Green Imperial Pigeon | Pigeon | | |
| Hill Pigeon | Pigeon | | |
| Mountain Imperial Pigeon | Pigeon | | |
| Nicobar Pigeon | Pigeon | | |
| Nilgiri Wood Pigeon | Pigeon | | |
| Orange breasted Green Pigeon | Pigeon | | |
| Pale capped Pigeon | Pigeon | | |
| Pied Imperial Pigeon | Pigeon | | |
| Pin tailed Green Pigeon | Pigeon | | |
| Pompadour Green Pigeon | Pigeon | | |
| Rock Pigeon | Pigeon | Entire India | |
| Snow Pigeon | Pigeon | | |
| Speckled Wood Pigeon | Pigeon | | |
| Srilanka Wood Pigeon | Pigeon | | |
| Stock Pigeon | Pigeon | | |
| Thick billed Green Pigeon | Pigeon | | |
| Wedge tailed Green Pigeon | Pigeon | | |
| Yellow eyed Pigeon | Pigeon | | |
| Yellow footed Green Pigeon | Pigeon | Entire North and West India | |